IGNOU MLIS Project Submission Status(June & December)
Last updated on April 23rd, 2023 at 08:56 pm
IGNOU MLIS Project Submission Status 2023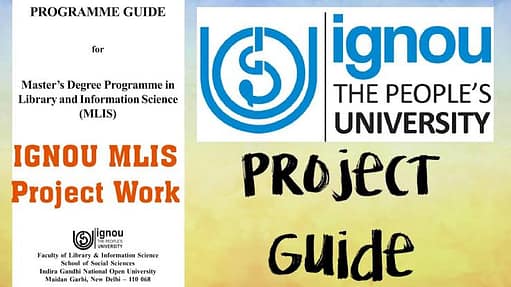 Every year, Students submit their IGNOU Project synopsis or Thesis for their related course in the university via online or courier. After sending the Project Synopsis or Project Report to the university , The Students remain in confusion whether it has been delivered to IGNOU or not.
and If the project has been delivered, then what is their IGNOU MLIS project approval status. Whether the MLIS Project has been approved or not.
To provide all this important information, the university has provided the link on its official website where students can check their IGNOU MLIS Project Status by entering their enrollment number and selecting the Programme.
About IGNOU MLIS Project Work
The Master of Library and Information Science (MLIS) programme consists of six required core courses and two electives. Along with the theoretical, practical, and seminar components of these courses (including electives), students enrolled in the MLIS programme are required to complete a Project/Dissertation (MLIP-002), which is equivalent to a four-credit full course (100 marks). The objective of the Project/Dissertation is to allow students to use the information they have gained during their studies and to build abilities in areas covered by the various courses in this Programme.
The Students need to take help of IGNOU MLIS Project Guide or Supervisor, Who can put his signatures on the IGNOU MLIS project report or on Synopses
Qualifications of Supervisor/Guide
The minimum qualifications of the supervisor are as follows:

Ph.D in Library and Information Science.
Or
Master's Degree in Library and Information Science with two years experience in a library or
information centre and in a lecturers' grade or its equivalent.
Or
B.E./B.Tech. (Computer Science)/M.C.A. or equivalent with minimum of two years experience in
a reputed library. Library, information centre and similar organisation.

A student may choose his/her supervisor according to his/her choice. The proposal should be
accompanied by a bio-data of the supervisor, duly signed by him/her. The names of the external
guides/supervisors will be approved by the Faculty of Library and Information Science before the study is
undertaken. A Supervisor/Guide can supervise upto a maximum of 5 students.
Objectives
Objectives
The general objectives of the Project/ Dissertation Work (MLIP-002) are to help the learner to:
develop research skills;
solve research problems through `scientific method' of investigation;
develop writing, presentation, communication and analytical skills;
develop ability to. apply multi disciplinary concepts, tools and techniques;
and
solve problems of libraries information centres, knowledge centres and similar other
organisations.
Within this framework,
MLIP-002 has the following specific objectives to enable a learner to:
identify and formulate research problems;
write a good research proposal;
identify and use appropriate research methodology;
conduct scientific investigation in a systematic way;
collect and analyse data; and
apply appropriate tools, techniques and methods and statistics to the field of library and
information science.
IGNOU MLIS Project Submission Date
The schedule for submission of Proposal and Final Report is as follows:
Submission of Synopsis to the Programme Coordinator 30th November of e corresponding
year for the students admitted in July
session and intending to complete the
programme in next June.
Approval of Proposal Before 31st January of the next year.
Submission of the Project Report (one copy) to:
The Registrar (SR&ED)
IGNOU, Maidan Garhi
Before
31st May (for June Term End
Examination)
30 November (for
December Term End Examination)
How to check IGNOU MLIS Project Status
If you got an error like Enrollment no and Program MLIS Assignment/Project/Practical Submission Status Not found.
Kindly check with the concerned Study Centre/Regional Centre, if submitted
It means your Project is not updated yet, Contact Regional Centre or Wait more days for update.
How to Buy buy IGNOU MLIS Synopsis
SolvedWeb Solutions is committed to provide the Quality Synopsis & Projects with 100% approval guarantee for MLIS .
IGNOU MLIS MLIP002 Synopsis report should contain :
Title of the project
---
1. Introduction to the study
2. Rationale for the study
3. Statement of the problem
4. Objectives and scope of the study
5. Research methodology.
6. Expected contribution from the study
7. Limitations of the study
8. Chapterisation
9. References
10. Questionnaire
IGNOU MLIS MLIP002 Project report should contain :
TITLE PAGE
---
1. Certificate of Originality
2. Acknowledgement
3. Declaration
4. Title of the Project
5. Introduction to the Study
6. Review of Literature
7. Objectives and Scope of the study
8. Research Methodology
9. Data Analysis & Interpretation
10. Findings
11. Conclusion
12. Limitation of the study
13. Bibliography
14. APPENDIX
15. Questionnaire
You can buy the IGNOU MLIP synopsis from Here